</p>
<strong><span style="font-size: large;">For awhile now i have noticed the name Darling Girl Cosmetics throughout the beauty world reading blogs, facebook beauty pages, etc... Wasn't til I saw a look XoXo Alexis Leigh posted a month ago that I discovered what amazing colors they have. I had seen a few looks here and there using some of their products but this one had sparkly duochrome shades used in it. I was immediately mesmerized by them. I couldnt click on their website fast enough.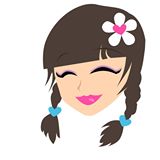 </span><span style="font-size: large;">Once I got there and started looking through the eye colors with my jaw dropping with every click, I knew I had to make an order. I decided to buy a few jars and also ordered a review kit which was on sale for a $1.00 (squeal!!). I thought that deal was super awesome for getting to try out 5 different products. I was going to order one of the lipglosses that looked awesome but they were sadly all sold out. I like that this site has a wishlist, so I can goto it when I want to order something and pick out from the beauties I had already discovered. I am on my 11th page. 

Such cute wrapping!! I love the logo!!


This was the review kit I got. I chose 5 shadow samples and they came in the normal sample baggies. I believe each has an 1/8 of a tsp. 


*Sweet Savage: Matte Midtone carnation pink
*Rich Gurl: A sky blue thats on the periwinkle side with a green duochrome. Its very sparkly!!
*Persuasion: Medium lavender base with gold shift and turquoise sparkles. 
*Unicorn: A shimmery irridescent silvery white but when applied its a irridescent pale pink, maybe even a little purplish with turquoise sparkles.  This was my favorite color I recieved. I already went through the sample and had to order a jar of it. :)
*Obviously a Wig: Magenta with a blue/purple duochrome. I love this color!! I think it makes an awesome lip gloss color!!
<a target="_blank" href="http://media4.onsugar.com/files/2013/09/03/178/n/11329888/389c2e3f2be7c8f1_darlinggirlswatch.jpg">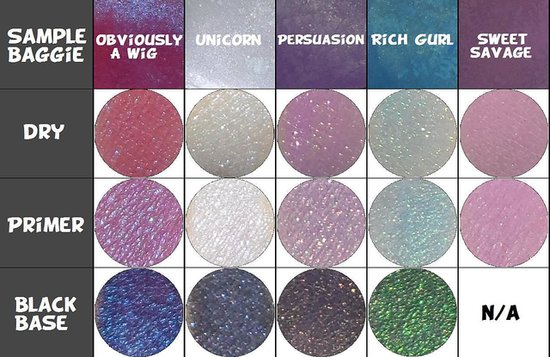 </a>Dry swatch, Elf Primer, and then over UD Liner Zero

Love the flowers!


The Petit jars cost $2.50 and they come with approximately 1/4 tsp in a 3 gram jar that includes a sifter. The full size comes in a 5g jar including sifter with approx. with a 3/4 tsp of shadow.


Basket Case: Bright purple with turquoise shift and gold sparkles.


Dark Crystal: Deep graphite with color shifts from lilac, red/silver to greenish-blue with a red/pink "diamond dust" sparkle.

</span></strong>
London Calling: Indigo base with heavy red shift.


My Little Pony: Pale, pastel lavender with green shift and aqua and pink iridescence.


<span style="font-size: large;"><strong>No Sign of Life: Oceanic blue with a brilliant grass-green shift and baby green sparkles.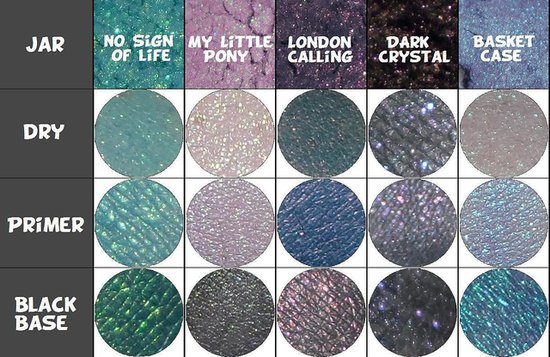 Dry Swatch with Finger, Elf Primer, and UD Liner Zero


Free Sample time!!


Every package comes with a couple baggie samples and stickers. Also when you make a purchase of $10 or more you get the weekly GWP (Gift with purchase) shade. 


Peachy Keen: Peach with pink sheen along with gold/green/purple sparkles. This was a gift with purchase shade but if you contact susan she might have more that you can purchase. 
*Bronze Dawn: Ruddy pinky mauve base with strong gold sheen 
*Leaping Lizards: <span>medium grey with golden green sheen that shifts to a grey with red/violet sheen

Thoughts: I love all these colors!! They are very sparkly. I find they work well with the glitter glue that I bought when i ordered from them a 2nd time. With all shadows I would say use a primer. These seemed to last a long time and are vibrant. I work in a stock room that only has a couple fans and no ac. I live in phx, so to give you a rough idea of the weather where I am at. I come home and my makeup has very minor creasing if at all. There can be a little fallout but not too bad. I love these and highly recommend their shadows. I can't wait to order more. I'm waiting til Sept. 6th to order some Halloween Shades from the Oh! The Horror Collection. :) I need to swatch these colors with DG glitter glue and will update this post with a pic. 
Couple Looks I Did:
<a target="_blank" href="http://media2.onsugar.com/files/2013/09/03/333/n/11329888/741e4ab4c03e8326_barbiedark3a.jpg">
</a><a target="_blank" href="http://media2.onsugar.com/files/2013/09/04/335/n/11329888/ae79518c5e80c774_dawn7a.jpg">
</a>
<p></span></strong></span>